OFFICIAL OPENING IN OCTOBER 2019
BECOME A MERMAID IN NASHVILLE
New pool location coming soon!
Aquamermaid School Nashville hosts mermaid swimming lessons, exciting birthday parties, bachelorette parties, corporate events and family outings for people of all ages.
Whether you are on a family day, hanging out with friends or celebrate a special occasion we'll ensure you'll have an unforgettable experience. We set up fun & unique games, team challenges, and memorable photos sessions.
Our instructors will teach you the basics, some trick movements, and techniques to help you become a pro mermaid.  
Book your event today!
TRIAL CLASS
$60/HR
PER PERSON
1 Hour Mermaid lesson
Mermaid tail supplied
For kids and adults
MERMAID PARTY
$300/HR
PER GROUP OF 5 PEOPLE
Private mermaid coach
1 hour of mermaid fun
Mermaid tail supplied
For kids and adults
$30/ additional particiant
HIRE A MERMAID
$250/HR
PER MERMAID
Mermaid models & performer will:
Swim & take photos with guests!
Perfect for under 7yrs kids party!
Great for corporate events!
Dry event also available.
Mermaid activities are hosted at Aquamermaid pool facilities or can also be offered at your private pool!
Need additional info? Contact us: info@aquamermaid.com or 1-866-279-2767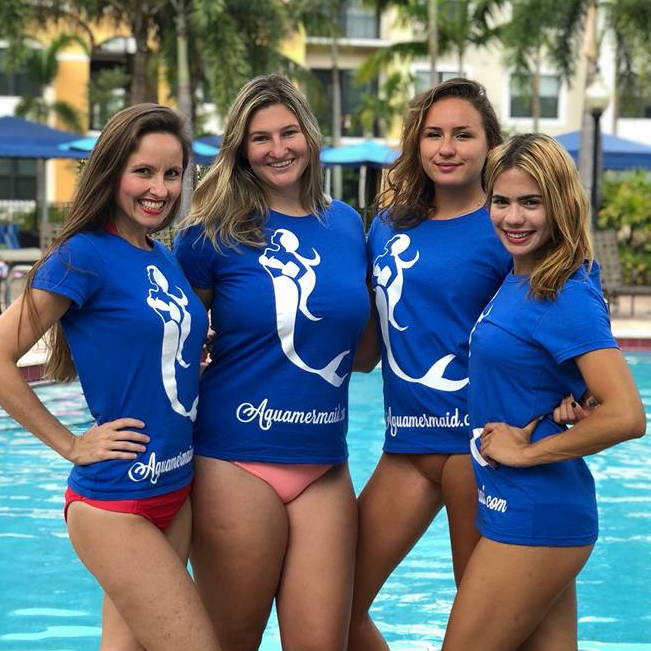 JOIN AQUAMERMAID TEAM!
MERMAID SWIMMING INSTRUCTOR & MODELS
Aquamermaid school is currently hiring certified swimming
instructors to join our fun, professional team!


Duties and Responsibilities:

- Lead and teach swimming classes for a variety of ages and
levels (kids & adults)

- Prepare lesson plans, instruct and evaluate students

- Actively interact with parents and students

- Enforce safety regulations as required due to the nature of
the activity

- Lead mermaid swimming birthday parties