Collection:

BECOME A MERMAID IN MONTREAL
Aquamermaid School hosts mermaid swimming lessons, exciting birthday parties, bachelorette parties, corporate events and family outings for people of all ages.
Whether you are on a family day, hanging out with friends or celebrate a special occasion we'll ensure you'll have an unforgettable experience. We set up fun & unique games, team challenges, and memorable photos sessions.
Our instructors will teach you the basics, some trick movements, and techniques to help you become a pro mermaid.  
We're located in front of Saint Joseph's Oratory. It is conveniently located at 5 minutes walk from Côte des Neiges subway station. The sports center is the last building on the left side when you are facing the school.
Book your event today!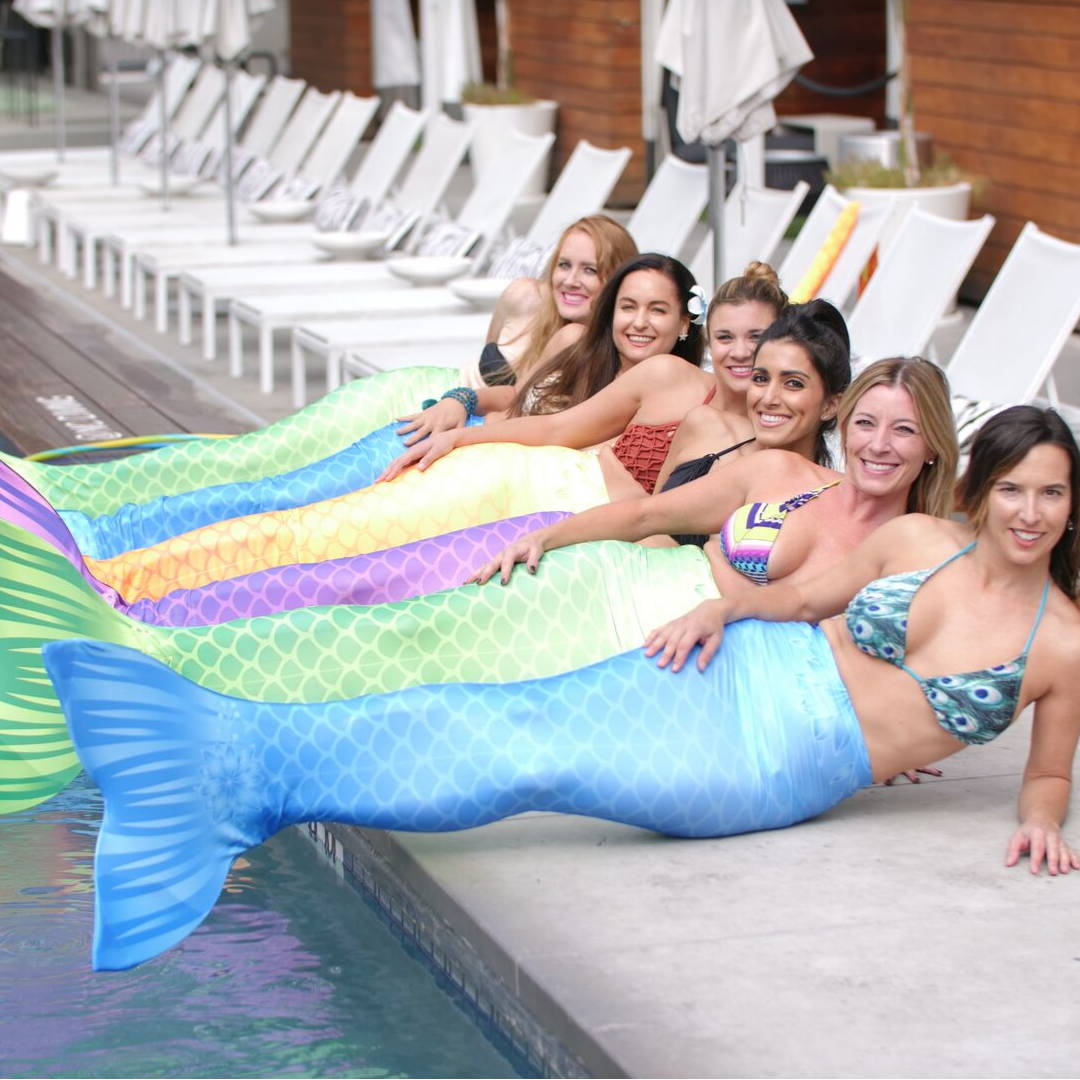 LOCATION
Notre-Dame College pool (Indoor pool)
Address: 3799A Queen Mary Rd, Montreal, Qc H3V 1A7
Telephone : 1-866-279-2767
Email : info@aquamermaid.com
*Our team can also travel to the hotel or private Pool of your choice. (Please contact us for more details)
ALL-INCLUSIVE, NO-HASSLE PRICING
DISCOVERY CLASS
$60/HR
PER PERSON
1 hour of mermaid lesson
Mermaid tail supplied
Age groups: 7-12yrs & 13yrs +
↓
PRIVATE PARTY RATE
$300/GROUP
INCLUDES 5 PEOPLE
1 hour of mermaid fun
Mermaid tail supplied
$30/additional participant
↓
*Mermaid activities are hosted at Aquamermaid pool facilities and can also be offered at hotels or private pools!
Need additional info? Contact us: info@aquamermaid.com or 1-866-279-2767
FREQUENTLY ASKED QUESTIONS (Click for the dropdown to open)
1. WHAT ARE THE HOURS OF OPERATION?
If you'd like to make a booking, swimming lessons and group events are by appointment only. Our pool availabilities are on weekends, but we also have a mobile team that can go to your private pool at the time and day of your choice.
We're a cashless business. We do not take cash payments at the pool. We only accept credit cards. Payments are done upon reservation on the website or by phone. AMEX, Visa, Mastercard are gladly accepted
3. WHAT ARE THE MINIMUM AND MAXIMUM GROUP SIZES FOR EVENTS?
We can host groups as small as 5, and if you're really popular, we can accommodate up to 20 of your family and friends! If you have a smaller group, or you just want to join alone, you can join our group lessons where we combine many participants in one group.
4. WHEN SHOULD I BOOK? HOW FAR IN ADVANCE?
We recommend booking at least 4 weeks in advance for a private party. If you are only a few people, then you should book at least a few days in advance.
5. CAN I COME JOIN A CLASS WITH MY KIDS?
Yes, this is a great parent-kids activity! Book your spot in the kids class and just leave us a note in the comment section in your cart there will be an adult joining the group and we will prepare the proper equipment for you.
Wear a comfortable bathing suit (one or two pieces are good). Make sure it allows you to move freely, as in, no strapless bikini bra. Avoid eating a heavy meal ­2 hours before practice. Tie up your hair to clear your face.
7. DO YOU PROVIDE ALL THE EQUIPMENT?
We supply the mermaid tails for all our activities. We recommend bringing a towel and goggles.
8. WHAT IS YOUR LARGEST MERMAID TAIL SIZE?
Waist size: Women pants size 18-20 / Waist size 40-44 inches
Shoe size: US Women shoe size 13 / Men shoe size 11
9. CAN WE BRING OUR OWN MERMAID TAILS?
Yes, you are welcome to bring your own mermaid tails to the class. Even silicone tails are welcome. There is no discount if you bring your own tail.
10. CAN I BUY A MERMAID TAIL?
11. CAN WE TAKE PICTURES OR VIDEOS?
Please do! We love seeing pictures of you having fun at Aquamermaid! Make sure you tag us @aquamermaidschool #aquamermaid. Please make sure to only capture your people in the pictures and no other swimmers or pool staff.
12. WHAT IS YOUR CANCELLATION POLICY?
Trial class: Full Refund: You may cancel your reservation up to 48 hours prior to class with no penalty.
- No Refund: Any cancellation the day of the activity or within 48 hours before.
- Last minute date change: If you reschedule your class within 48hrs, you will be charged a $20 administration fee per person. The fees will be charged to your credit card on file.
Party or group class: You may cancel your reservation up to 7 days prior to class with no penalty. Any cancellation after 7 days will result in a $75 late cancellation fee. *The fees will be charged to your credit card on file.
Lesson Package: Non-refundable, must be use for consecutive weeks. Only one class may be push back (with 1 month of the last lesson date) if missed. Lessons are transferable to someone else if student cannot attend.
In case of any logistic problem, AquaMermaid reserves the right to cancel one or many classes. In such event, AquaMermaid will attempt to contact you as soon as possible to inform you of the situation and establish the time and place of the next classes.
13. IS THERE A MINIMUM AGE?
The minimum age is 7 years old in order to wear the mermaid tails in our trial classes and parties. We do offer mermaid entertainment parties for kids under 7. A mermaid will swim and play with the kids. Learn more about that HERE.
14. DO I HAVE TO KNOW HOW TO SWIM TO PARTICIPATE
Yes, we recommend having a baseline ability to swim 25 meters, tread water for 1 minute, and float on your front and back without assistance before swimming in a mermaid tail. If you fail the swim test you can still join the activity but we require you to wear a life jacket.
15. CAN PEOPLE COME AND JUST WATCH OR DO THEY HAVE TO PAY STILL?
Friend and family are welcome to watch the class and take photos from the bleachers at no additional cost.
All mermen, mermaids, sirens, & merfolk are welcome! We have a monofin that fits up to men's shoe size 11 (ladies 13).
Your safety is our team priority and we always have lifeguards on the pool deck and instructors in the water at all times. The classes take place in shallow water. We require a minimum swimming ability of at least 25m and 1 minute of treading water unassisted in order to swim in the tails.
When wearing a mermaid tail, always ensure you swim with a buddy. Kids should always be supervised by an adult.
18. WHERE IS AQUAMERMAID LOCATED?
We have locations all across Canada and the United States. Check out our locations.
We also sell Franchises
19. DON'T SEE YOUR QUESTION ABOVE?
Shoot us an email at info@aquamermaid.com and one of us will get back to you.
We accept all forms of credit cards. Unfortunately we do not accept cash on site.


Sorry, there are no products in this collection